Where Is John Taylor?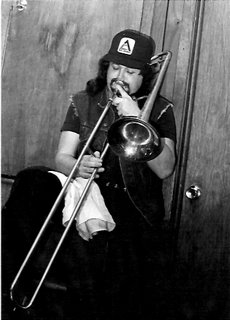 Photo of:
John Taylor
Photo by:
Rich Voorhees
Sometime....just before I met the group of gentlemen soon to be known as
Rastus
, a couple of the band members were walking somewhere in downtown Cleveland when they saw a man sleeping on a park bench. With him, he had a trombone case and a bowling ball. That was all he had to his name.
He said he was from Minnesota and that he had, at one time, owned a music store but it had failed. He told the boys from soon to be Rastus that he was a trained musician and asked if there was anything they could do to help his position.
They told him they were currently in a band with a couple of sax players and that they would take him and introduce him to the other members.
Upon meeting with the other members of the band,
John Taylor
was quickly taken into what would soon become Rastus.
I met John Taylor soon after he joined the group. He was truly a strange guy but he played his ass off. His chops were tremendous and he added that brass quality that soon became an integral part of the Rastus sound.
He endeared himself to me by playing exactly what I asked. If he had a better choice of notes, he would play that for me. I loved him. He was affable and intelligent and loved to laugh.
Here's a funny story....
When we finally got into the studio to do our first record for
GRT
, Taylor (as we all called him), played a solo on my song "Warm" that brought tears to my eyes. It was a thing of sheer beauty. The barest minimum of notes. I will never forget that moment.
However; Taylor said he could play that exact solo every time. I told him if he ever duplicated that solo again I would give him my 24 carat gold, cloisonne' lighter. He had always admired that lighter.
John Taylor never received the lighter. He came close a couple of times but I remembered the solo from the record note for note and he never quite duplicated the solo. I wish I could have given it to him. I almost did once but one of the sax players....
Mike Geraci
I think, told me he didn't think it was exact. John Taylor's playing the solo exactly had become a big thing with the band and they all wanted to see me give him that lighter. It never happened.
We know where
Smokey
and
Vic
have gone but we don't know to where the infamous Mr. John Taylor has disappeared. If anyone has any idea as to his whereabouts, please let us know or tell John that it's important that he contact me. We all miss him and wish him well.
I can be reached at...
.

jreddins@gmail.com
Keep the faith....
John Rhys