Have I Lost My Mind?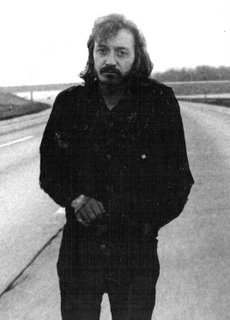 Photo of: Rhys on I-94
Photo by: Mike Schneidler
___________________
I am sitting here listening to "
Lucy Bluebird
" and drifting back in time. Remembering one the greatest assemblage of musicians with which I ever had the pleasure of working. Thinking about each individual now brings a smile to my face. I think about our first meeting and what a fool I made of myself. I'll tell you about that sometime.
There is tragedy here and I know it. The reality is this….in the entertainment business, nothing is fair. A friend of mine once said, "Who says you get what you deserve." If any group of human beings ever deserved to be able to make a living doing what they loved best, these gentlemen did. Hard as they tried they were continually broke, borrowing from loan-sharks to pay their bills. This was just the way it was in those days for musicians trying to steer the course to stardom. Some got lucky and the others….well….the others didn't. But it usually wasn't for a lack of trying.
I promoted records for a long time during the early part of my career and I listened to a lot of records made by some tremendously talented people and it always amazed me how many people it took to make any piece of product sell. The big record companies poured untold wealth behind some folks that didn't make the grade but they also poured car loads of money on some that did. To the record companies it was basically a crap shoot. The ones that made it paid for those that didn't. It was that simple. Just business. I would never treat the business and those in it that way. Never could.
When I worked for
Warner Brothers Records
in Detroit, sometime during the month, I would receive an envelope with three sheets of paper enclosed. They called them "work lists" but they were really suggestions that if followed, would work best financially for the company. For instance….The "A" List was the major artists releases. The performers into whom they were dropping the most cash. Then the "B" List was people on the way up or the way down. Get them airplay if you could. Now….the most interesting list of all….the "C" List. The "C" List was made up of newly signed artists. It was fairly simple to get a
Frank Sinatra
record played from the "A" List. Not so easy getting a group called
Gary Lewis and The Playboys
played from the "C" List. It was fun to try.
Rastus
should have been on a "C" List somewhere. Perhaps they were. I know that "
Warm
" was high on a chart on a station in New Orleans. What happened? These are things I am attempting to investigate. I was with them from the beginning and
I
don't know the full story. I'm not sure any one person does. I tell you that I will bring this band to the attention of everyone I can. I will repay all those good people who have brought so much joy to my life. Those here and those who have gone before. Not only the musicians from Rastus but all their friends and family who treated me so well during those magical days when we all contributed to the music we loved and a band called ….
Rastus
.
God Bless You All....
John Rhys